St Mary the Virgin Church, Long Stratton, Norfolk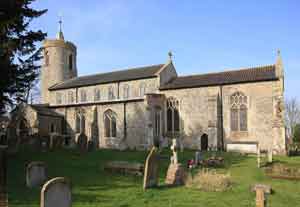 This attractive church with its round Norman tower was renovated in the 19th century. Despite this it has retained many of its earlier features including: its 13th century north aisle, an early 17th century font cover and a large monument to Sir Edmund Reeve and his wife Mary. Sir Edmund was appointed a judge in 1639 and on the memorial he has been modelled wearing a red fur lined robe and a black tricorne cap.

However, St Mary's most famous feature is the Sexton's wheel, which is beautifully displayed in a glass case. Believed to date from around the 15th century it is understood to have been used by the Sexton to determine the day on which penitents should start their fast.

Glass in the east window is mainly a mix of medieval (both English and European), although it was not arranged until the early 19th century. Windows in the south chancel date from c1860.
For further information and to view the details of each window click the

boxes below. For a downloadable and printable fact sheet click