St Peter & St Paul Church, Salle, Norfolk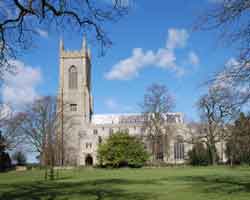 This beautiful church was rebuilt in the early 15th century. Now its size seems totally out of proportion to its location but when it was erected it was financed by the wealth of local wool merchants. Paid for by Uffords, Mautebys, Morleys and Brewes it is both huge and magnificent.
Unlike many rural Norfolk churches, which are built with cheap local flint, St Peter's & St Paul's benefactors brought in costly Barnack stone from Peterborough. The interior remains impressive with its arcades rising and falling towards the chancel arch. Its treasures include: a seven sacrament mediaeval font, a chancel roof which is upheld by 160 angels together with roof bosses which would not look out of place in a cathedral, a contemporary 15th-century wineglass pulpit and original choir stalls and misericords.
Much of the original glass has been destroyed nevertheless some interesting panels remain including remains of the Nine Orders of Angels together with various patriarchs, prophets and cardinals. There are also some very attractive late 19th century windows.
For further information and to view the details of each window click the

boxes below. For a downloadable and printable fact sheet click