Stained Glass of Wymondham Abbey, Norfolk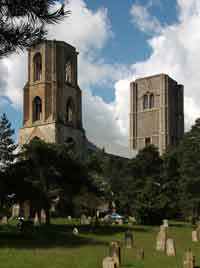 The Abbey was originally founded in 1107 as a Priory of the great Benedictine Monastery of St Albans, not becoming an Abbey in its own right until 1448. Following the reformation in 1538 it has served as the Parish Church. The surviving building is both beautiful and atmospheric with its two tall towers dominating the surrounding countryside – it is not a building that can be ignored! Inside it contains a number of treasures including: 12th century nave arcades, a glorious 15th century angel roof and an outstanding 20th century altar screen, designed by Ninian Comper.
Stained glass can still be seen in two windows. One includes glass  designed by Joseph Grant of Costessey  whilst the other contains 15th century remnants.
For further information and to view the details of each window click the

boxes below.